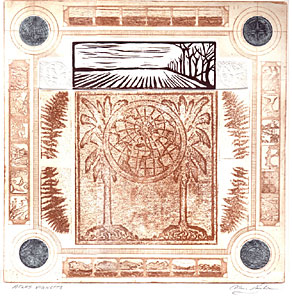 Show + Tell: Notions of Home and Place by Alumni is a group exhibition featuring contemporary art in various media by 13 graduates of The University of Winnipeg.
My father, Allan Geske, has two recent prints, titled Atlas Vignette (above) and Prairie Orbs, highlighted in the exhibition.
The exhibition is organized in conjunction with The University of Winnipeg's 40th Anniversary and Homecoming celebrations and introduces the University community — past and present — as well as the general public to work by professional artists who are UWinnipeg alumni.

Opening reception:
Thursday, September 13, 4:00 p.m. — 6:00 p.m.
Performance by Glen Johnson at 5:00 p.m.

Special Gallery hours for Homecoming:
Friday, Sept. 14, 10:00 a.m. — 4:00 p.m.
Saturday, Sept. 15, 10:00 a.m. — 4:00 p.m.

Regular Gallery hours:
Monday — Friday, Noon — 4:00 p.m.
Saturday, 1:00 p.m. — 4:00 p.m.